What are Crypto Strategy Rules?

Let's start with a general definition of strategy:

 A detailed plan for achieving success in situations such as business, industry, or sport, or the skill of planning for such situations

.
Up till now, Crypto Strategies could be managed with a single dimension - structure. Now we released a long-requested upgrade, Rules. Adding a secondary dimension to the table, Strategists can now really manifest their strategy with a combination of structure, templates, and rules.
Adjust/change Crypto Strategy structure: Login > My Strategy > Select your Crypto Strategy > Structure tab > Rules tab > Follow the on-screen instructions
How do Crypto Strategy Rules work?
- Trailing stop-loss rule
A trailing stop-loss rule that gets triggered on user-defined percentage drop, from the high water mark achieved by the strategy.
A stop-loss rule allows you to rebalance once the strategy performance touches a specified percentage, known as the stop price. This allows you to limit your losses.
Example: Setting a rule trigger at -5% would result in an automatic rebalance if your strategy performance drops by 5% from the highest point of performance.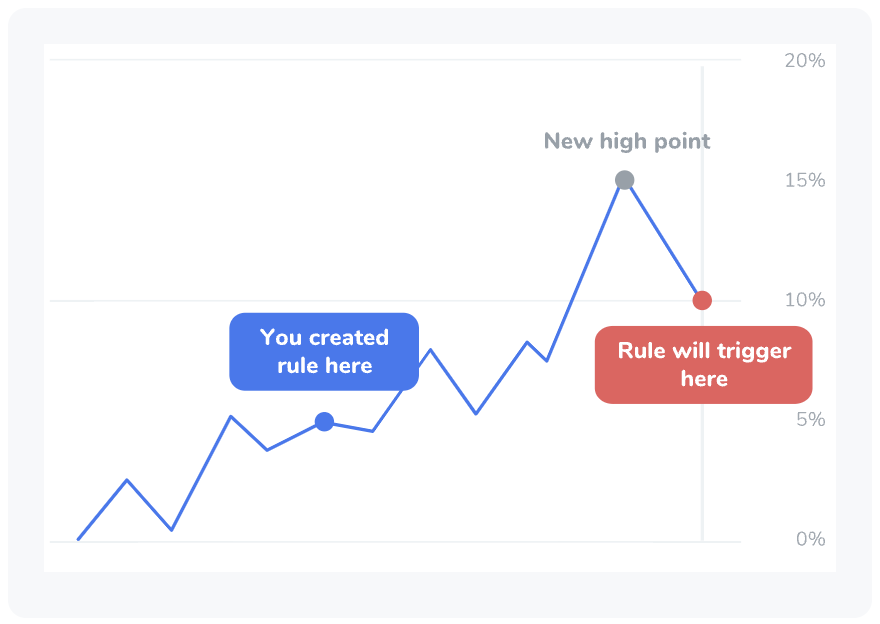 - Profit-take rule
A profit-take rule that gets triggered on user-defined percentage increase, designed to take profits.
A take-profit rule guarantees that a position is closed at or greater than a predefined price point. This allows you to change the structure to one of the stable coins and let acquired profit wait for your next rebalance.
Example: Setting a rule trigger at +10% would result in an automatic rebalance if your strategy performance reaches +10% from the start point.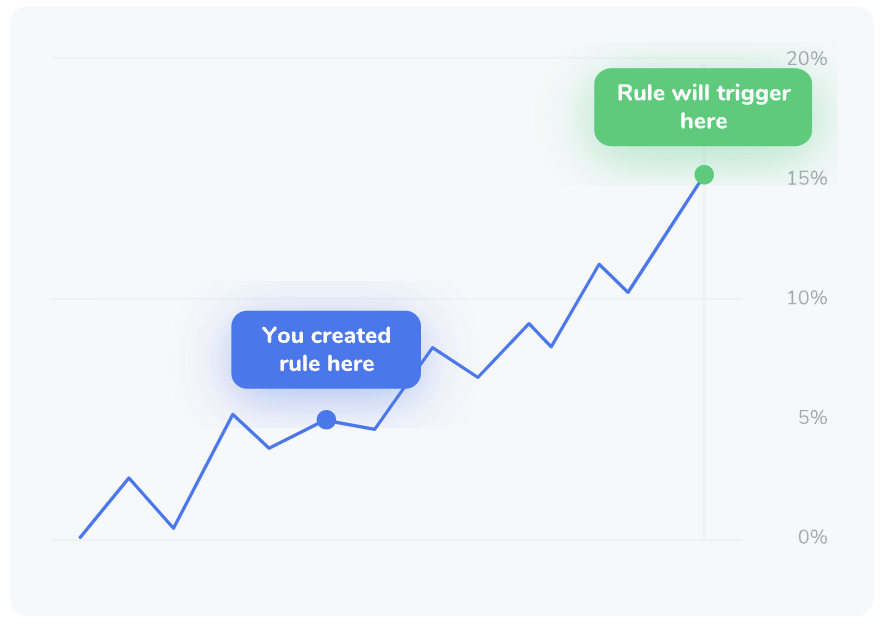 - Price-based rule
Rule triggered on an exact price of a single asset, as defined by the user.
You can set the target strategy structure upon rule creation or you can first set up a good library of templates where each template represents a direct response you have in mind for a specific market scenario. Then you can use preset templates during the rules creation. For example, you could create two templates "Bull Template" and "Bear template", where Bull Template goes all in and has zero stable coins weight, while bear template protects your investment and is very heavy on stable coins.
What happens when the rule condition is met?
When the rule condition is met, automatic rebalance is triggered. Your Crypto Strategy will automatically start to rebalance to the target template with a selected algorithm (slow, medium, fast). Once the rule is triggered, it is automatically turned off, to prevent multiple rebalancing in case the asset price would be volatile around the price trigger point.
More importantly, once the rule is triggered we will also notify you via email and our new notification center, so we suggest you keep those notifications turned on.
Rules trigger mechanics explained
For a rule to get triggered, the following parameters have to be met:
- Rule price condition is met
- Rule price condition is satisfied for at least 5 min
- If the price increases above the rule price condition, the 5 min timer is reset
- If the price oscillates around price condition, the condition timer might get reset several times, appearing as if rules are not triggering
- To prevent several rule condition resets, please try experimenting with a little bit of "buffer" between obvious price resistance levels, where prices tend to oscillate a lot, resulting in unfavorable conditions to trigger the rule
To prevent unwanted rebalances caused by sudden spikes, each rule is triggered after the trigger price has been met for at least 5 minutes. Each time a price condition bounces back, the 5-minute timer is reset.
How do I control the rules?
In your Crypto Strategy view, go to the "Rules". tab This is where you may create new rules, and see rules that are already applied to your Crypto Strategy. Each applied rule has a toggle switch button that allows you to turn the rule ON/OFF.
What should you watch out for?
You can set multiple rules per strategy, yet it is very important to understand how the rules triggers overlap. If you set 2 different rules that both meet price triggers at the same time, both rules will be triggered and both rebalances will be applied without knowing which one will win. This may result in unwanted behavior so please be careful.
Notes:
Please check all/other rebalancing options
- MANUALLY - adjusting/changing the Crypto Strategy structure
- RULES - advanced automatic rebalance triggered by preset rules
- NIGHTWATCH - simplified automatic rebalance - "Protect my assets for the next 12 hours."
here.
Please find the information about adjusting the Crypto Strategy structure fee here.
And the information on how to create a Crypto Strategy here.